Introductory Lesson: $150
No experience is necessary for this one day introduction to the sport of Hang Gliding and Paragliding. Students are first shown a video so they know what to expect. The first phase of training is good Ground School which includes:
Safety Training
Fundamentals of Aerodynamics
Proper Setup and Pre-Flight of Equipment
Ground Handling Experience
Practice in our Hang Gliding Simulator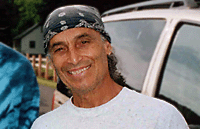 By the end of the day, students should understand how to confidentially foot launch, maintain straight flight, recognize proper airspeed and safely land into the wind.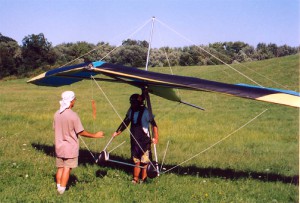 Mountain Package: $1250
For the serious pilot. This should take approximately 10-12 days*.
This novice package is designed to develop the skills needed to successfully complete your USHPA (United States Hang Gliding and Paragliding Association, Inc.) Beginner and Novice foot launch ratings, to achieve your first supervised mountain flights from our 1,350 ft. mountain, and to land in our 30 acre landing field. Mountain Package includes:
Minimum of 60 Training Hill Flights
Advanced Training including Turns and Landing Approaches
Mountain Ground School
USHPA Beginner and Novice Rating Test
Two Instructor-Assisted Mountain Flights with Radios and Student's Own Equipment (Glider, Harness and Parachute)
Additionally, 10 Observed Mountain Flights
Complimentary Seasons Mountain Flight Pass for the Remainder of the Year (Valued up to $220) at our Exclusive Mountain Flight Park
*Lessons do not have to be taken consecutively, but must be completed within one year.
Equipment Discount
Purchase a new Glider, Harness and Parachute from us and receive a $300 Rebate!