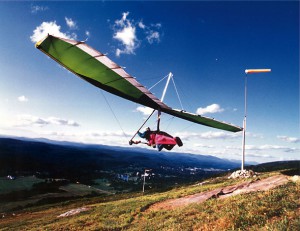 Ellenville Flight Park is the country's most complete, privately owned Hang Gliding and Paragliding operation. This spectacular site, situated along the beautiful Shawangunk Mountain range, is about 75 miles north of New York City. It has a take off altitude of 1,350 feet and a 30 acre landing field where our shop is located.
As "The Hang Gliding Capital of the East," Ellenville Flight Park has a topography which produces ridge, thermal, and wave lift conditions for flying at its best. It has been the host of National Championships in the past, and boasts a distance record of 201 miles, an altitude gain record of 10,500 feet, and a duration flight of over 11 hours!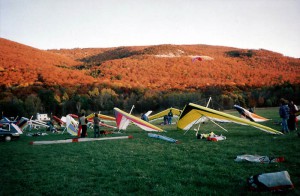 Can I learn to fly?
Yes, almost certainly! Men and women from the ages of 14 to 70 and beyond have learned to successfully soar hang gliders and paragliders from our mountain. Of course, the safest way to achieve this dream is under the supervision and guidance of a Certified Instructor. Hang gliding and paragliding do not require a great strength or stamina; they are sports of skill, good judgment, patience and respect for nature.
How safe is it?
As safe as you make it! Here at Ellenville Flight Park, we are totally committed to providing the best personalized service and instruction with the emphasis on safety at all times. We are here to provide all the knowledge you need to enjoy years of safe flying. You will gain an understanding of weather, equipment and attitude that will be your foundation for good judgment.
*You must be a current USHPA member in order to fly at Ellenville Flight Park.